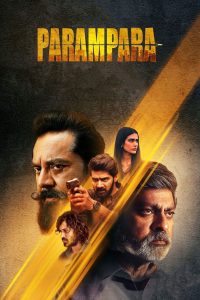 Parampara Season 2 is an Indian Telugu language crime drama television series that was released on 21 July 2022 on Disney Plus Hotstar. The series is directed by Krishna Vijay L and Vishwanath Arigela starring Jagapathi Babu, Sarathkumar and Naveen Chandra as the main lead actors in the series.
Premise
The story is a continuation of the previous season and it starts with where season one has ended. Gopi will be arrested for an attempt of murder when he storms into the wedding of Suresh and Rachna where he threatens Naidu. Gopi goes to jail for possessing an unlicensed weapon and in prison, he gets into a tussle with Omar who works for Ratnakumar who seems to be a very influential person in jail very soon Gopi gets his attention and later he advises Gopi to kill his uncle Nagendra Naidu which was the very reason he landed up in jail. But things take a turn for dramatic events when Gopi explains his motive is to destroy Naidu's empire and not to kill him. The rest of the story forms around how Gopi will handle this situation and how does Naidu counter-strike Gopi and what are the roles of Rachana and Mohan Rao?
Crew
Krishna Vijay L and Vishwanath Arigela have depicted a story where the entire proceedings revolve around power, politics, and drama. Although things start at a slow pace it does get interesting as it progresses further. Season one was an overstretched drama which consisted of seven episodes with a runtime of 50 to 55 minutes each whereas season 2 has over five episodes with a runtime of 30 to 35 minutes each. The writers have developed a script that has an intriguing narrative with twists and turns that are quite entertaining and engaging. One of the highlights of the series is the setting and the way it is executed on the screen to the audience is portrayed well. The slow-motion shots along with the background score are quite impressive and enhance the storyline as well…..
---
Read Full Review: Click Here
---
Overall, Parampara Season 2 is an improvement when compared to previous seasons but it still lacks the depth and intensity which is required for a political action drama series. The predictability can be a disappointment to the audience along with a rushed ending which is similar to the previous season. The screenplay along with the technical aspects are quite engaging but the writing department should be blamed for making it underwhelming. You can still give it a try but there's nothing new showcased in this season except for a few twists and turns that are placed effectively.