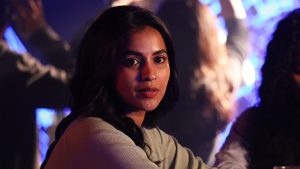 Modern Love Hyderabad is an Indian Telugu language series that was released on 7 July 2022 on Amazon Prime Video. It is a six-part anthology tale that is based on the American television series "Modern Love" which itself is based on the weekly column of the same name published by The New York Times.
1. My Unlikely Pandemic Dream Partner
My Unlikely Pandemic Dream Partner is directed by Nagesh Kukunoor starring Nithya Menen, Revathi and Krishna Teja as the main lead actors in the series.
The story is set in the lanes of Hyderabad's old city which is heavily populated by Muslims and explores an estranged relationship between a mother and daughter due to interfaith marriage. The story forms around how the mother and daughter rekindle their relationship and how they earn their love and respect for each other when they are stuck in lockdown who are living under the same roof.
Nithya Menen plays the role of Noori Hussain and has pulled off the role quite well. Revathy plays the role of Meharunnisa who is Noori's mother and has done a fine job with her performance as well. Krishna Teja plays the role of Prakash who is a neighbor of Noori.
The series explains the caste and community without making a fuss about it and how pride can sour relationships. The show also shows the viewers Hyderabadi delicacies which leave you for a quick visit to the city.
---
Full Review: Click Here
---
Overall, the series is a worthy watch as it explores different shades of love in six different stories that intrigue the viewers and hold their attention right from the beginning till the end. The anthology series also explores the lanes of the Hyderabadi city and its famous heritage and culture with Hyderabadi delicacies which are famous in the city, and for its Nawabi Hindi and love for cinema is well captured on screen. As the series progresses further we get some happy endings, some predictable endings and some light-hearted and heartwarming tales which are laced with an interesting mix of love stories. The show depicts Nawabi City as never seen before and instantly captures the audience's attention and the visuals leave you with laughable moments and tug at your heartstrings.