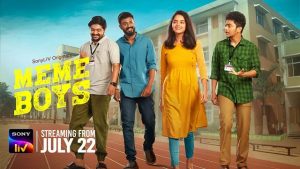 Meme Boys is an Indian Tamil language web series that was released on 22 July 2022 on SonyLIV. The series is directed by Arun Koushik starring Aditya Bhaskar, Namrata Jayant, Siddharth, Badava Gopi and Latha Venkatraman as the main lead actors in the series.

 
Premise
The story revolves around four college students who have similar interests and come together to make memes which are creative and post them on an Instagram page which questions the injustice for the student community in a deemed university. The group becomes quite popular on social media which irks the college dean when he decides to hunt them down. The dean comes up with various plans to capture the students who make memes to target his actions and policies. However, the dean realises that it is hard to track them which is not an easy task and faces various pressures from the chairman and family. The rest of the story forms around how the dean will be able to track the students?
Crew Director Arun Khoushik has depicted a storyline which centres around a university theme where comedy and drama go hand in hand and entertain the audience. The story begins with four college students who make creative memes where they get arrested by the cops for creating a popular meme page on Instagram. Arun has successfully succeeded in covering all the loopholes which are logical and enhancing the narrative with creative writing that engages the viewers. The twists and turns which appear at regular intervals are intriguing to watch and the nail-biting sequences in the SonyLIV original Tamil show will serve their purpose. ….  
---
Read Full Review: Click Here
---
Overall, the series is a decent watch as it has an intriguing premise which has laugh-out-loud moments that are quite entertaining and hold the attention of the audience right from the start. The premise works well with its twists and turns that occur at regular intervals and they are enjoyable as well. On the downside few scenes occur to be repetitive and the proceedings become far stretched but apart from this, the cinematography and the background score will complement the storyline. The series can be binge-watched for those who don't mind watching light-hearted campus drama despite few shortcomings.