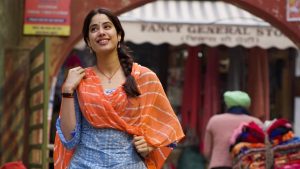 Good Luck Jerry an Indian Hindi language black comedy film that was released on 29 July 2022 on Disney Plus Hotstar. The film is directed by Siddharth Sengupta starring Jahnvi Kapoor as the main lead actor in the movie.

 
Premise
The story revolves around Jaya Kumari aka Jerry from a lower middle-class family who stays in Punjab. She lives with her sister Cherry and mother Sarbati who has been diagnosed with second-stage cancer and Jerry is asked to raise Rs.25 lakhs for the treatment. But the thing is she does not come from money where she turns into a cocaine peddler to make money for her mother's treatment and she will even go to extreme lengths by fooling up the cops and retrieving a packet of cocaine for a drug supplier. The mobster is quite surprised and hires her as a hustler when she asks him for work…
Crew
Director Sidharth Sengupta has depicted a storyline that is heavily based on dark comedy that intrigues the audience. There's always a thin line between being funny and bizarre and thankfully, Good Luck Jerry balances to pull off the narrative with a gripping screenplay that balances both the dark comedy and the situations around it. He has created a beautiful world just made for the OTT platform and the viewers should embrace the work with open arms. The writers have developed a script with great comical timing and the dialogue delivery is quite impressive along with the situational humor which intrigued the audience to watch the film all the more and the background score quite gels with the premise…  
---
Read Full Review: Click Here
---
Overall, it depicts a slow-witted Jerry who blossoms into a woman and is willing to embrace her darker side. Although the film might be having plenty of issues despite that it is still an entertaining fare where viewers are supposed to embrace the dark comedy as it is the film made for the OTT platform and it should be accepted with open arms which can be binge-watched this weekend.