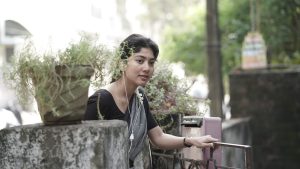 Gargi is an Indian Tamil language film released on 15 July 2022 in theatres. The film is directed by Gautham Ramachandran starring Sai Pallavi, Kaali Venkat, and Aishwarya Lekshmi as the main lead actors in the movie.
Premise
The story revolves around Gargi who is a school teacher. She comes from a lower middle-class family where she has a younger sister and lives with her parents. They have their own house. Gargi's father works as a security guard in a nearby housing society whereas her mother sells idli batter from home and her sister is a school-going child. Gargi's life revolves around her family and she has no major desires in her life to pursue but one incident that happened overnight changes her whole family life forever. Her father who is a 60-year-old man is accused of a gang rape case involving a minor girl.
Crew
Director Gautham Ramachandran has depicted a story that is heavily based on emotions and sentiments that immediately captures the viewer's attention. He has taken a subject that centers around sexual abuse and a sensitive topic rape where the audiences can be empathetic towards the storyline. The writers have developed a script that has a firm grip on the content and stunning metaphors which improves the premise…
---
Read Full Review: Click Here
---
It is a hard-hitting and unsettling drama that revolves around a daughter who has to fight for justice which can be said to be one of the best Tamil films so far. The filmmakers have explored delicate topics that swirl around sexual abuse and rape which surely does leave a lasting impression on the audience and it also comes as a breath of fresh air that has a societal standpoint that is associated with the terms of innocent until proven guilty.